About BEUMA Contracting Ltd.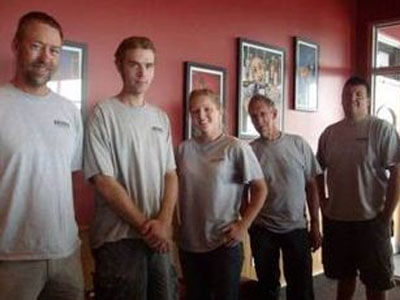 In the late '80s my cousin Andy and I (Roy), while both having our own contracting businesses, found that we were increasingly asking each other to help out on our projects as we got in over our heads. Finally, we decided to join forces, so we incorporated BEUMA Contracting Ltd. in 1991. While we have always had links to the swimming pool industry—for many years construction of community swimming pools were our bread and butter—more and more we found ourselves involved with the decorative aspects of concrete. We've gone from pool deck coatings to decorative concrete floor coatings, and finally decorative concrete.
Andy has since retired and I have taken over BEUMA Contracting Ltd. I have been fortunate to have some great staff over the last few years, with Thomas, Sam, Mira, and Dan. However, I still find myself getting in over my head, and so I am often pleading with Andy to help us out a couple times a week. (Retirement is overrated anyway). Besides, there aren't many jobs like decorative concrete—it's creative, it's fun, you get to operate all kinds of machinery, and at the end of the project, you can't help but pause and look back with pride on something that is really sharp-looking.
Our goal at BEUMA is to constantly strive to become the best at our trade. For me, this started many years ago when I attended a concert of The Messiah, performed by the Regina Symphony Orchestra (RSO) and a number of Regina-based choirs. Even though I am not really a classical music fan, I was blown away by the quality and beauty of the performance. One man, in particular, caught my attention— the concertmaster. He simply played his heart out during the evening on his violin. He was so animated when he played, I am sure his fellow players gave him some extra room so they didn't get a bow in the eye. Although he has since retired, if you have ever been to an RSO performance while he was playing, you likely know what I mean.
I was very impacted by that evening—in fact, I believe I had a "divine encounter." I could just hear a voice saying to me, "Do you see how that guy plays his violin? That is how you run a business!" For so many years I had been dragging my feet a bit, doing just enough to get by, but always wondering if this was the best career choice for me. That night, I decided to throw myself into this business.
This has translated into first, focusing on decorative concrete because that is where my gifting lies. Next was a desire to be the best in decorative concrete, the best in Regina, and the best we can be. Often that means redoing something that is simply not up to par (I am sorry to say that happens more often than I care to admit). But somehow the motivation has switched from "is that good enough to get paid?" to "are we happy with that, or can we do better?"
To be the best also means using the best materials and tools available, as well as constant training. Because the decorative concrete industry is always changing with new techniques and new materials available, we need to be constantly learning and experimenting. We have attended World of Concrete in Las Vegas numerous times to take seminars and simply be inspired by the artistry and talent of some of the participants. In the spring of 2013, Thomas and I spent a week of training at the Concrete Décor Show in Charlotte, NC. And this past fall I had the opportunity to train and study, one-on-one, for seven full days under Keith Crewe from Wood Quarry Designs. (If you want to see a guy with talent, check out his website.) We are also members of the Concrete Polishing Association of America—Thomas has tradesman designation, while Sam and I have obtained craftsman designation.
Although I am sure that we at BEUMA have not mastered our craft (yet) to the degree that my concertmaster friend has mastered his, I see other work out there from competitors and colleagues, and I believe we are already doing a great job and can continue to become even better.